Training Courses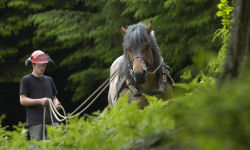 We hold training courses for beginers to more advanced please contact us for more details.
HEAVY HORSE WORLD Summer 2010
The Rural Business School at Duchy College held two horse logging events in Cornwall last year through Lynher Training with logger Simon Lenihan as tutor. Funded through the school's vocational training scheme, the courses took place at Deer Park Farm, Luckett by kind permission of the Duchy of Cornwall.
To read the full article and others Click Here
HEAVY HORSE WORLD Autumn 2009
"Turn right, past the wood piles, take the middle one of three rides and follow it up until you find us". Simon Lenihan's instructions were easy to follow, but as i drove along in first gear, my sense of trepidation grew. "Surely they didn't come down there, did they?".