Harness
We are agents for the Värmlands harness (Svenljunga Sadelmakeri AB). We bought our first Värmlands harness 20 years ago and this harness is still in daily use.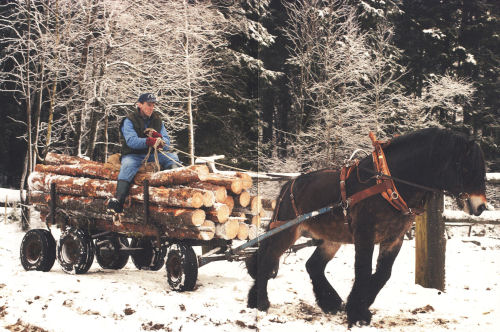 Master horseman Lars Åke Johansson with a set of Värmlands harness on his north Swedish Stallion
Svenljunga Sadelmakeri (Saddlery) maintains a long tradition of real craftsmen skill. We know that saddle, straps and harness must fit perfect in order for your horse to thrive his work.
The Värmlands harness, developed already in great grandfather's times, allows your horse to follow it natural motions even at hard work.
The harness is still identical light and durable and last for years. In the meantime we have also learned that a well made back harness makes it easier for the horse to hold and break the carriage. With all the adjustments there is on the Värmlands Harness, it fits the horse well. It is also very easy to harness and unharness, which you and your horse appreciate.
The Värmlands harness is manufatured to measure in first quality black or brown Swedish leather with mountings and buckles in stainless steel.
There is a Värmlands harness for each horse. All horses are unique. For that reason all our harness is made to measure for your horse.
Order by measure the Värmlands harness for your horse!